4/30/2019 Update - unfortunately nearly all of the below listed blogs are no longer being maintained. A couple have moved over the Instagram. Vintage Passions Just Like Mine is now posting on IG as "damaluz" and Helga Von Trollop as "ladygarsington." The Hair Hall of Fame still posts but infrequently.
If you scroll down to the end of my blog, you will see "Blogodacious Blogs" where I highlight my favorite blogs. There are some carryovers from last year
My top 10 favorites for 2011
and some new ones this year.
gold country girls
- They made my list last year. Three sisters who live in the Sierra-Nevada foothills. They have a down-homey writing/posting style.
Those newly discovered blogs ~
Crows Feet Chic
- I like her motto, "The Best Thing About Being 50 is that you are in your own vintage photographs." Her Doughboy and Remy posts are few and far between but hilarious!
Forgotten Bookmarks
- a rare bookseller who posts images of the personal, funny, heartbreaking and weird items she finds in books.
Helga Von Trollop
- I didn't include Helga on last year's list and I should have, she is one of my continuing favorites. She is a color fashion maven and inspires me to be bold in my outfits. She describes her blog as
Frocks in abundance. Music. Opshopping. Food. Cats. Movies. Sewing. Books. Hats. Some idiocy. 50s/60s/70s GLAMTASARAMA!
Sue Loves Cherries
- A sweet blogger who hosts Rednesday - Wednesday blog posts dedicated to the color red.
The Good The Bad The Worse
- I found Linda through the We Work For Cheese June 2012 writing challenge. She has a great sense of humor and smooth writing style.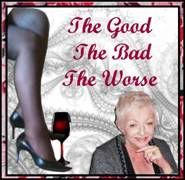 The Hair Hall Of Fame
- hair, hair and more hair
Last but not least,
We are: clamco
they are my kind of people. I "met" them on one of their hosted blog hops. They describe themselves as:
We are a close family of three with varied interests. We dubbed ourselves CLAMCO (an anagram of our initials) as a fictional family business name. (C)hris makes Steampunk jewelry, modified Nerf guns and goggles. (L)orraine buys collectibles at estate sales and flea markets and sells them on Ebay. (A)nd (M)egan is a very talented young artist and published author. Our so-called (CO)mpany is in northeast PA but we plan to relocate south in 2013. We are aiming toward a more minimalist lifestyle where we collect memories and experiences instead of stuff.
There you have it, my Top Ten, an eclectic mix of sass and frass.
Hopping over to
Mellow Yellow Monday
to post all of my fashion pics in a
YELLOW
extravaganza!
Brigitte Bardot
Doris Day
Lady Luck has smiled on me recently. I was a Christmas raffle winner from Interfaith Great Find's of this sweet pamper basket.
The contents will provide birthday presents for both my mom and daughter.
While the pricing at Interfaith hovers at near retail for certain items, framed prints literally go for a song. These two darling der Kinder prints will be re-framed and matted together as one. A 2013 present to me.
The second set of prints I just couldn't resist - they are perfect for a baby's room. I know I will find a use for them.
The calendar and spoon holder finished out the lot of finds, including a long skirt (not pictured), all for $7.
Wishes for bargains and vintage delights in the New Year!